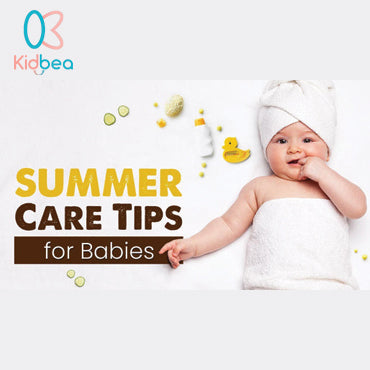 Best Summer care tips for babies
Summers always come with Long days, Short nights, Sunshine, Sunburns, and Warm weather. Babies have delicate skin and baby care is essential in every season but summer and its heat create more sweat on the baby's skin. Due to soaring temperature, babies get more sweaty or get a heat rash that occurs in irritability and discomfort. The most prioritized work for parents in summer is to make sure their baby feels cool and in comfortable clothes.
The following are the best summer tips for babies.
Twice Bathing
Due to excessive heat babies get very sweaty, and bathing them twice a day made them feel cool and comfortable, it is also included in their summer care routine. Oil massaging can also be an option during summers for skincare, it is healthy for baby's skin but make sure to wash it well while bathing. The bathing water should be checked every time before the bath, as it should not be cold, it must be lukewarm. Dry well your baby after bathing or the baby will start sneezing.
Usage of Talcum Powder
Most parents apply a lot of talcum powder in the summers to keep the baby's skin dry, but it should be double-checked before applying as sometimes it occurs in rashes on the baby's skin. And also to apply with maintaining distance, there is a risk of the baby inhaling the powder.
Baby Moisturizer
Baby moisturizers, wipes, and napkins should be double-checked before applying for skin allergies. Babies' skins are very sensitive, they can get allergies very quickly. Not every baby adopts skincare products. Apply a suitable moisturizer to babies, to prevent them from rashes.
Prevention from Sunburns
To avoid heat rash or sunburn caused by sweating and clogged sweat glands, keep your baby away from the heat as much as possible. Avoid carrying your baby in a sling for too long, as this makes babies especially hot and sweaty. If you go out in the sun, let your baby wear long sleeves and full-length, lightweight bamboo fabric clothes. A hat is also important to protect your child from direct sunlight.
Dress in airy clothes
Synthetic clothes are slightly risky for babies as they can cause rashes and irritability. Light fabrics such as bamboo, cotton, and muslin are breathable and the most comfortable material for little babies. Rompers are the best choice for babies in summer even while sleeping as it helps in easy dressing. Bamboo fabric is the most convenient for kids as they are highly absorbent than cotton or any finest fabric. Bamboo clothes are environmentally friendly, as they prevent babies from skin allergies or rashes and smell good.  Bamboo clothes also prevent babies from the UV rays of the sun. 
Kidbea believes in sustainable clothing, and also takes care of every ting thing needed for your babies. Here you'll get a number of varieties of Bamboo fabric clothes with different designs and styles.
Check out our summer collection, for more updates.