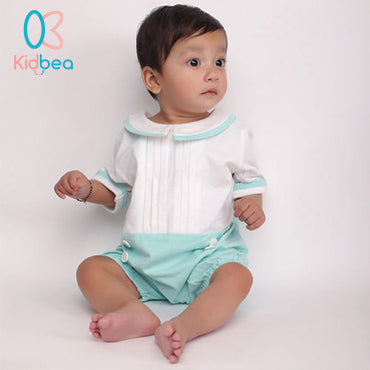 Cotton rompers for infants
In recent years, kid's apparel has overwhelmed the fashion world. Kidswear is the leading segment of the retail market and its demand is changing over time. Kidswear clothing has a lot of varieties such as fashion clothing, kids' sleepwear, kids' rompers, kids' tops, kids' winter clothes, kids' summer clothes, and organic clothes. Parents have to make innovative choices, for their baby which is comfortable and stylish. As every parent is concerned about their baby's skin, what is suitable for the skin, and which fabric will be healthy for their baby as the baby's skin is extremely delicate and absorbent during the growing age, because their skin is more permeable than that of adults, they interact more with, harsh chemicals from clothes. Cotton fabric contains delicate, natural, and breathable. Organically grown cotton is the perfect fit for a baby's soft skin as it preserves the natural characteristics of the cotton fiber.
Rompers are a one-piece suit choice for babies that cover both arms and legs. These are highly utility wear for parents and babies as they cover the entire body of the child and protect them from harmful climate, and pollution, and get easy access to parents while changing diapers. In spite of being flexible pieces of clothing, organic rompers last longer than regular clothing. You can decide accordingly to wear it loose, tight, or just the way it is. It is comfortable and works completely relaxing with kids who can't stay in one place. This is also a good decision for those who quickly change their body type. Kidbea's cotton rompers can outlast many other outfits in their closets. The blue color printed romper features an attractive design that will make your little baby girl adorable. It is suitable for a child from 3 to 1.5 years old and features a round neck, sleeveless, and snap button shoulders. When your baby is watching their favorite panda on screen, let them enjoy wearing these stylish and extraordinary designs. This Tie-dye teddy romper features a round neck and soft elastic ends. Your baby will feel super comfy in this delicate romper.
Kids don't like being fussy, so putting on a onesie/romper means less clothing and less struggle for you. Rompers these days have lots of attractive designs and styles that make them ideal outfits for kids for every occasion, family gatherings, casual outings, and even photo shoots. During the winter season, you can pair the romper with a lightweight wool coat for a stylish look.
There are many benefits of wearing a romper, meanwhile, Kidbea's rompers are the softest for babies which give more comfort, reduce laundry time, are easy on and off dressing, and are stretchable. We provide the most stylish design and varieties of rompers, check it out for more collections.