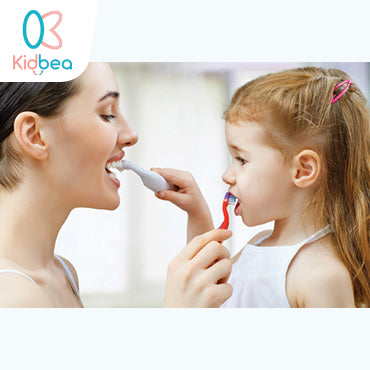 Few tips on Baby's oral hygiene
Many new parents have an uncertain idea of ​​when to start brushing a baby's teeth. An infant's first tooth is often emitted after six months. Parenting always gives the experience of so many things. When your baby has a tooth, plaque can grow on the outer layer of the tooth and cause cavities. Most pediatricians suggest that you start brushing your child's teeth as soon as the very first tooth comes out. It's okay if your baby takes off the brush while brushing.
Cleaning a baby's teeth is usually difficult, but maintaining a good oral care routine is fundamental to keeping your baby's mouth healthy and preventing infections. The way you never give up on changing diapers of your babies if your baby wiggled, is the same way you should equally care about your baby's oral hygiene.
Here are a few tips on Oral baby care Hygiene.
How to brush baby teeth?
When your baby's first tooth falls off, use a small-headed, gentle toothbrush to clean your baby's teeth. Apply a thin layer of toothpaste to the brush (as equal to the size of rice grain) twice a day, in the morning and before bed, place the brush at an angle of 45 degrees and brush gently for two minutes in a circular motion. When your baby is three years old, you can increase the amount of toothpaste accordingly.
Also, if your baby has teeth that touch each other, try to floss between them at least once a day and brush your baby's teeth either to help them in brushing by themselves.
When to start brushing the baby's teeth?
0-3 months: gum care
Most children do not have teeth until they are 3 months old. There's no issue if there are no teeth, you can continue with cleaning the gums. With a perfectly soaked washcloth or a soft newborn toothbrush. Some newborn toothbrushes are made from a delicate elastic band and are designed to fit your finger to ensure that slight pressure is applied. A little fluoride toothpaste can be used twice a day with a fine, swirling toothbrush when the first tooth emerges.
3-6 months: Continue gum care and begin brushing your baby teeth
Many babies don't have teeth at this age anyway, but they start to have them at six months of age. Continue cleaning gums with a washcloth or a newborn's toothbrush. Brushing a child's teeth can help relieve toothache and protect them from the emission of teeth. If your child's teeth have cracked at this age, brush them twice a day with a thin, soft-bristled toothbrush and a little fluoridated toothpaste.
6-9 months: Continue gum care and begin brushing teeth
Your child is more likely to have something like a few teeth. It is completely normal for your baby to not have teeth yet. If there are no teeth in the gum line then, brush the gums once a day. If few teeth grow, use a baby toothbrush with fluoride toothpaste to brush twice a day.
9-12 months: Brush your new teeth
At this point, your baby probably has a few teeth that have been knocked out through the gums. It is important to clean these teeth twice a day, always with a dab of fluoridated toothpaste, and the gums where the teeth are not yet visible. However, no matter how many teeth your baby has, at this age this is the perfect time to book a dental appointment for your baby.
12-18 months: Keep brushing your baby's teeth and see your dentist
Since your child's mouth is full of teeth, it's important to stick to a regular brushing routine of at least twice a day with fluoridated toothpaste. Try encouraging your baby to spit up after brushing their teeth. If your baby really has no teeth after a year and a half, you should definitely make an appointment with your dentist to examine the delayed dental eruption.
3-6 years: Encourage self-care with your presence
At this point, children should begin to understand how to brush their own teeth. It is recommended that fluoride toothpaste is up to the size of a pea on an age-appropriate toothbrush. You definitely need to help your child brush their teeth at this age to make sure they actually brush their teeth. Encourage your child to spill extra toothpaste and try not to swallow it.