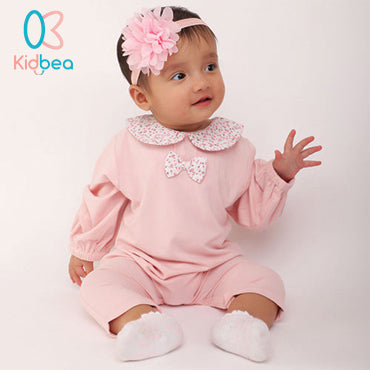 Why Kidbea's Bamboo Rompers are THE BEST and a must-have for your little ones
Parenting comes with several demanding situations and responsibilities, and babies require love, care, and comfort. We all know that babies' skin is the softest, which needs soft clothes for babies' delicate skin. In Kidbea, we believe in sustainable branding and your baby's comfort.

Comfortable clothes make a toddler happy and it is rightly said that a happy baby is a healthy baby. Bamboo clothing completely fits this criterion of giving warmth and comfort to babies. We all are aware that bamboo itself is very significant when it comes to clothing.

These days when we look for baby clothes, we have many options available, Bamboo baby clothes are trending these days. Kidbea's bamboo rompers are very durable, smooth, and have a natural scent that will completely take care of your toddler. We have trending styles of rompers, which is super comfortable, easy to carry anywhere, time-saving, and made from the softest material.

We provide the softest cloth material that can be worn without causing allergies or possibly skin irritation or discomfort in newborns or toddlers, which makes us the best choice for your baby clothes. Bamboo is 40% more absorbent than organic cotton or other fabrics and in our bamboo clothes, it keeps moisture away from the skin and keeps your little ones dry and comfortable.

Our priority is to innovate more designs with comfort so that we can provide the best products to your babies. We are constantly developing ideas to make each bamboo cloth more convenient and relaxed. Another advantage of using bamboo clothing is that it smells good than other types of clothing, which keeps the baby happy during the day and a happy child is generally much less problematic for new moms. Bamboo clothing is suitable for all skin types, therefore, bamboo clothes can keep the child away from any form of skin allergy or rashes. Bamboo consists of natural antimicrobial bioproducts that reduce bacterial growth on clothing fabrics and even on human skin.
Bamboo clothes are the best option when we are talking about baby clothes. Kidbea's Bamboo clothing is suitable for all ages and skin types.

Our Bamboo clothes are not the softest, most delicate, durable, and comfortable in n they also help to keep the babies cool in summer and warm in winter. With Kidbea Bamboo Rompers you will get the best of all the attractive Bamboo clothing choices which can be turned into your priority choice for your baby clothing soon.